Home
6 Stylish Bedroom Wallpapers That Make a Statement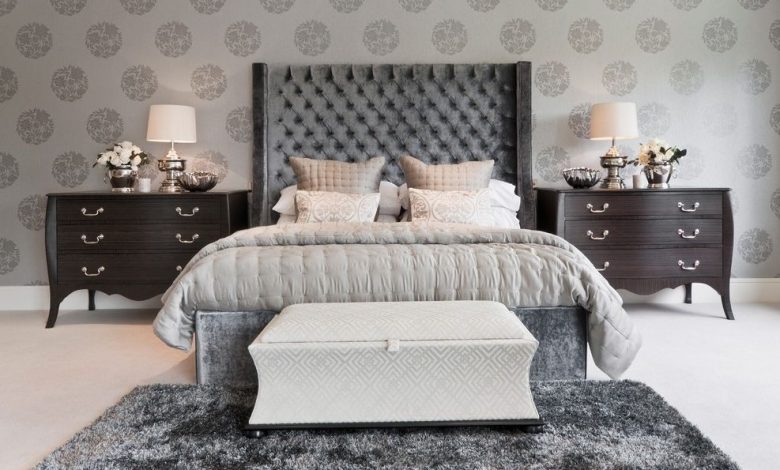 Bold and dramatic wallpapers are having a moment and we are here for it. An instant way to wake up a dull and dreary bedroom nook is to install an ultra-chic wallpaper that will breathe back life into the room.
Installing wallpapers is easy and the best part is that you can remove them anytime you are over them without damaging the walls.  Nowadays it's hard to choose a wallpaper design for bedroom as there are a plethora of options out there. We have made your life easy by narrowing down a list of 6 wallpapers that are so gorgeous that you won't believe they are real.
Classy Floral Wallpaper
Floral themed wallpapers are timeless, chic and easy on the eye. Peonies, roses and poppies are some popular floral motifs to consider. Floral wallpapers exude romanticism and scream classy and luxury. Choose a dark backdrop like black, plum or turquoise to further add drama to the room.
Tropical Palm Wallpaper
There is something about tropical-themed wallpapers which makes you want to never take your eyes off them. Green is known to soothe and reduce anxiety and hence it is a great colour to add to your bedroom.  Imagine returning after a stressful day at work to your little patch of nature. What else do you need in a bedroom?
Ceiling Wallpaper
A fail-proof way of making a statement with your wallpapers is to install them on your ceiling. Pick accent colours from your bedroom and choose a wallpaper design that blends with the rest of your wall. By opting for a contrasting colour wallpaper for your ceiling, you can wake up a boring room. You can easily manipulate the sense of space with these wallpapers. While choosing dark wallpaper will make your ceiling look low, a light colour ceiling will give you the illusion that the ceiling is high.
Metallic Wallpaper
Nothing screams grandeur and opulence like a metallic accent wallpaper. We are talking about bronze, silver, copper or gold accent wallpapers. Get creative with your colour choice and go for copper swirls on a peacock blue wall or gold patterns on a black wall.
Silk Damask Wallpaper
Damask wallpapers are trending right now for all the right reasons. They instantly make your bedroom look lavish and gorgeous. Damask wallpaper designs are a great choice for people who have minimalistic décor pieces in their bedroom and want to make their bedroom walls the showstopper in the room. You can further choose bold patterns and experiment with unique colours if you have decided to go all out.  It's a great choice for people who want to give a Victorian and antique touch to their bedroom space.
Toile Wallpaper
Yet another classic style that will never go out of fashion. This French-inspired wallpaper will instantly let your guests know that you have good taste and appreciate the finer things in life. It's a great wallpaper style for people who want to go for a traditional or vintage aesthetic for their bedrooms.
Neutrals, pink, yellow, green, blue and pastels are some popular colours you will spot on toile wallpaper designs for bedroom.
Don't hesitate to break the monotony and choose a dramatic wallpaper that speaks to you. Keep in mind the vibe you want your bedroom to have while choosing wallpaper. If you want a Zen vibe in your sanctuary, then you can go for nature-inspired or tropical wallpapers. For those who want their bedroom to exude luxury, metallic and silk damask wallpapers would be a perfect choice for you.
Still not sure about your style? Browse through Asia Paint's website to see the latest, trending wallpaper designs that will transform your bedroom aesthetic without costing a fortune.