Home
Simple Bedroom Ceiling Designs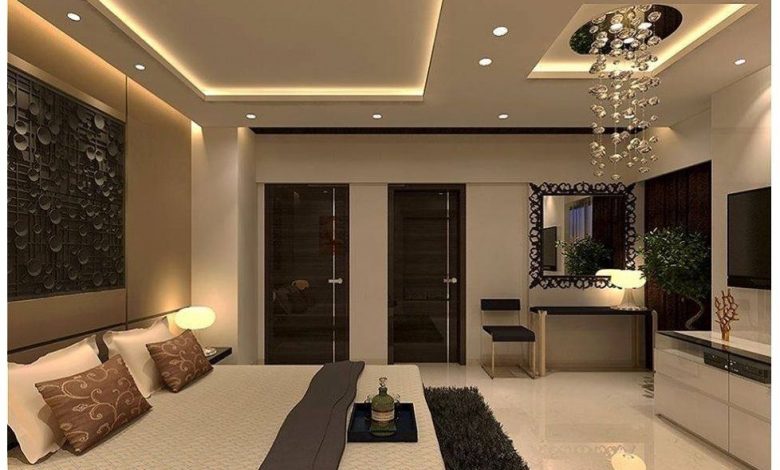 The bedroom is a personal space that should be designed very carefully. To create the perfect ambiance, you will have to pay attention to each and every element in your bedroom. Besides the bed, furniture, floor, and wall, the ceiling requires your attention as well. In most cases, people just paint the ceiling any colour that complements the rest of the colours in the room. However, you should opt for better ideas if you want the bedroom interior design to appear appealing. There are many modern ceiling design ideas you can consider. If you are not sure about which option you should choose, here are a few ideas you can take inspiration from:
01 of 04 High-gloss reflective finishing
Regular paint can make your modern bedroom ceiling design appear boring. You should look for options that will help to give the ceiling an edgy look. For instance, a high-gloss reflective finish can work. Your ceiling will appear very stylish and give the overall room a modern feel. Besides the contemporary look, a reflective surface will reflect more light and keep the interiors well-lit at all times. Also, the reflection on the surface will create the illusion of a larger space. Hence, homeowners with small bedrooms can benefit from this idea. Just stick to lighter shades to maximise the effect.
However, you must remember that reflective paint cannot be applied everywhere. You can apply it to your ceiling only if the surface is extremely smooth and polished.
If the surface is not polished enough to hold reflective paint, you can opt for other similar options. Investing in a stretch ceiling instead of reflective paint can help you to achieve the same effect. You can get them in many different colours, finishes, and textures as well. Hence, finding an option that perfectly blends in with your simple bedroom design will not be difficult.
02 of 04 Install lighting fixtures
You can use lighting fixtures to create a beautiful ceiling design that only lights up the entire space but also elevates the aesthetic beauty of the space. You just need to opt for a false ceiling. These ceilings have become extremely popular in modern homes. There are various materials available for making a false ceiling. Depending on your requirements, you should make a decision. However, choosing the false ceiling design is not the only task at hand. You should plan how you want to feature the lighting fixtures. Many modern bedroom ceiling designs display an outstanding backlit cove that gives the space a luxurious and cosy feel. You can choose lights that change colour according to your wish for added visual interest. Do not worry if you already have a false ceiling. You can use recessed lights to light up your bedroom.
03 of 04 Add class with wooden finishing
Some people seek class and sophistication. Wood is the perfect material for them. Its rich colour and texture make the bedroom interior design more inviting and warm. Beautiful wooden rafters or panelling on the bedroom ceiling will give the space a vintage feel. However, wood is quite expensive, and not everyone can afford it. If you are looking for affordable options for creating the wood effect, you should consider opting for MDF plywood and varnish. They are perfect for decorating your bedroom ceiling and giving it a rustic look.
If you are habituated to doing woodwork, you might not have to hire professionals for the task as well. This will further help you to save more money. You do not even require planks of the same stain and finishing. Using different pieces will work as well.
04 of 04 Introduce artwork
People often create beautiful artwork on the wall to decorate it. However, you do not always have to stop at just decorating your walls. You can sometimes extend the artwork and decorate the ceiling as well. This will make your entire simple bedroom design appear like one large piece of artwork. Depending on your choice, you can choose any type of artwork for this purpose. From famous paintings and abstract pieces to map prints, there are many options available. You can choose designs that will help to express you as well. This idea may sound very interesting but you must keep in mind that creating it is quite difficult as well.
The ceiling is often one of the most ignored spaces in your bedroom interior design. However, if you can design it properly, it will influence the overall appearance of the room hugely. The aforementioned points are a few simple tricks that will help to design a bedroom interior and add more personality. However, you can come up with many more new ideas as well that will reflect your taste and give your bedroom design a more personalised look.