Home
A Place For Yourself: She Sheds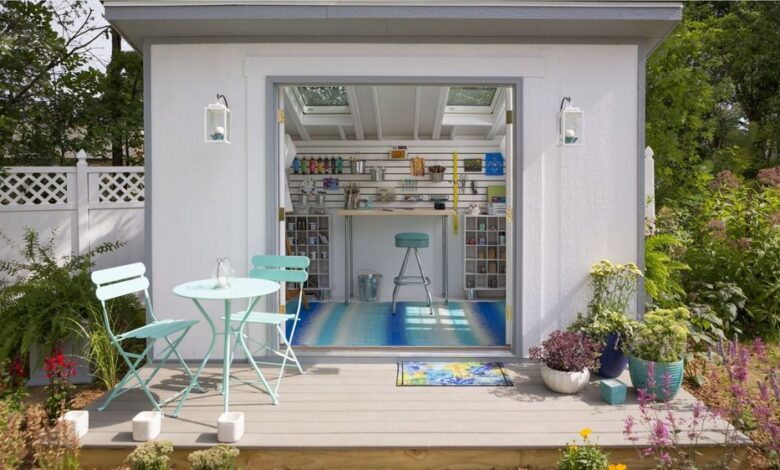 Life can get busy and home can sometimes feel like a place that harbors all of that chaos. That's why it's important to create a separate place to unwind and relax. For women, that means creating a she shed. Whether it's by adding a shed to the backyard, adding an addition to the garage, or utilizing that extra bedroom, anything can be considered a she shed.
With your little place of peace settled, the next vital part is decorating your cozy spot. Don't worry about where you should start as we've got you covered. Here are some tips and tricks to get creativity going.
Decide On A Theme
Before heading out to handpick some décor, it's essential to decide on a theme first. Perhaps your meditation room will have a unique boho flair with a macramé hammock and some patterned Moroccan ottomans on the floor. Maybe you have a walk-in closet that would be perfect for some old-school Hollywood glam, complete with a tufted sofa and a glittering chandelier. It's up to you what you have in mind for your special space.
Pick Out Lighting
Lighting can really make or break a room. Make sure to include some dimmable, smart lighting in your decorating plans. Additionally, different lighting can serve different needs such as soft white strings of light for cozy winter naps or bright, precise lighting for late night crafting. Keep an eye out for floor lamps with specially designed dimmer lights made for reading. On the other hand, if you want to splurge then high-tech is the way to go. Incorporate voice-activated, color-changing smart lights for a more hands-free approach.
Take Advantage Of Space
Sometimes a she shed will not have much square footage, but that's okay! Creating a secluded space that utilizes each foot of available space is possible. Utilizing "hide-away" furniture is a great start. For instance, if your private reading room also has to double as a guest room then you can free up some space by including convertible furniture such as a pull-down Murphy bed or a sleeper sofa. Use a stool that can tuck away into a desk instead of a bulky office chair.
Incorporate Some Greenery
A plant can liven up a room, but they're also beneficial to your mind and body. Studies have shown that having plants can raise productivity, lower your blood pressure and even increase attentiveness. This makes them a great addition to home offices or craft rooms. In addition, the aromatic smell has mental and physical benefits as well. The scent of lavender is said to be relaxing and calming while eucalyptus may help with cold or flu-like symptoms.
Make It Yours
After adding all different types of décor, next is to add yourself to your she shed. Personalizing is what really makes a room feel like yours. Collect some of your favorite vacation photos along with special souvenirs and showcase them in shadow boxes together. Have a treasured record collection?  Display some of your favorite albums on the walls for all to see.
Bring Some Snacks
One of the best things to add to a night of unwinding is some delectable snacks and a refreshing drink. You can include a simple coffee maker or an electric kettle for coffee and tea. For snacks, add a basket of your favorite candies or a mini fridge filled with ice cream that you don't want your children to find. We promise we won't tell. If you have children, frame old or current pieces of art that they've created with their hands. It's a great way to include loved ones.
Get Cozy
The easiest and most enjoyable step is to add warm and cozy elements to your she shed. Invest in Sherpa blankets and fluffy accent pillows to add texture and comfort. Make sure to keep an electric blanket stored away for these chilly, cold days.
These tips should be a great starting point, but for more help, look over the accompanying infographic.