News
Make Your V-Day One To Remember With Cirque du Soleil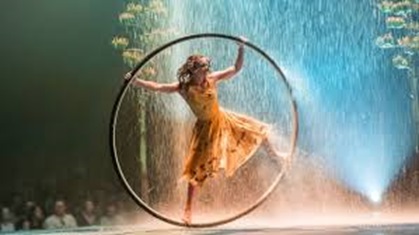 Are you feeling romantic? Love can make the world go round, and with Cirque du Soleil, that trip can be quite the journey. Founded in Canada in the early 80s, Cirque du Soleil has become one of the top contemporary circus producers on the planet, with shows on just about every continent. Considered a premier team of live entertainers, Cirque du Soleil is offering a host of shows in Vegas tonight that will leave you and your loved one thrilled, amazed, and ready for another show.
Before you book your Valentine's Day festivities, take some time to explore how Cirque du Soleil can help YOU to celebrate.
Love and Love Again
Let's start our Valentine's Day journey with Cirque du Soleil in Las Vegas at the Mirage Hotel and Casino, where The Beatles: LOVE takes fans on a multi-sensory journey nearly nightly. LOVE is a theatre-in-the-round spectacle that blends the legendary hits of England's greatest band with the iconic and visually immersive production that Cirque du Soleil has become so well-known for. With last-minute tickets Las Vegas fans are yearning for, keep an eye out as these tend to go quickly!
If music is on your mind and Michael Jackson is on your playlist, you'll want to skip over to the Mandalay Bay Resort and Casino for a parade of 'wow' moments headlined by Michael Jackson's greatest hits. Michael Jackson ONE is a Cirque du Soleil spectacle, and it includes an infusion of acrobatics, visuals, and the greatest hits by the King of Pop.
We can finish our journey by stopping at the Treasure Island Hotel, where Cirque du Soleil has been performing Mystere since 1993. The jaunty-filled show includes a ton of laugh-out-loud humor with wild stunts and engaging visuals. Ideal for the couple that wants a little bit of fun on their date night, Mystere is an affordable show that must be seen at least once!
Valentine's Day With The Family
If you find yourself in Disney Springs this Valentine's Day, then you might want to consider stopping by the World of Disney for a showing of Drawn to Life. The latest production in the Cirque du Soleil catalog, Drawn to Life, is a collaboration between Disney and Cirque du Soleil that has to be seen to be believed.
The Drawn to Life team features an innovative wardrobe and set design that features the spirit of Disney's greatest works. When blended with the high-octane live performances of Cirque du Soleil's best performers, the results are anything but ordinary. The story of Drawn to Life focuses on Julie and her magical pencil as she journeys through memories left behind by her late father.