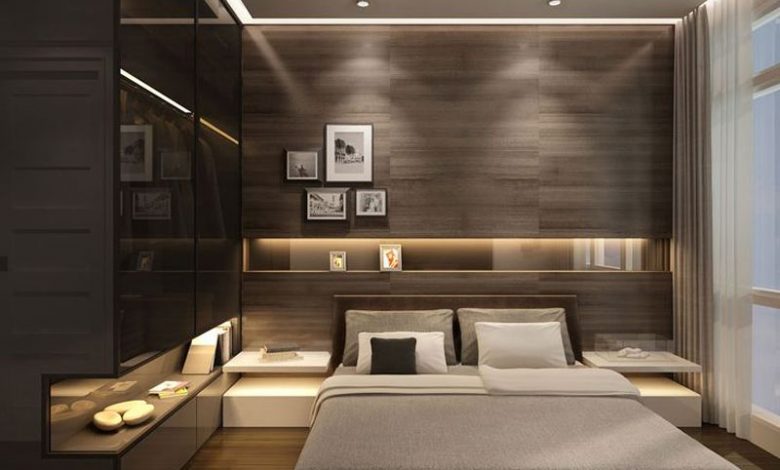 Walk-in closets are becoming exponentially popular in modern bedroom designs. They are very stylish, make the space functional, and give your bedroom interior design a luxury look. There are many different walk-in closet ideas you can come up with for your bedroom interior design as well. Hence, you will be able to give it a more personalised look. Besides all the cabinets and shelves on the walls, you should consider opting for a closet island as well. Although you can design a great walk-in wardrobe without a closet island in your bedroom interior design, getting one is always beneficial as it makes the space functional and aesthetically appealing. However, you must keep in mind that a walk-in wardrobe in your modern bedroom design can be expensive and adding an island will further increase your expenses. Many people avoid it simply because it will increase the budget. If you, too, are worried about the budget of your wardrobe design for the bedroom increasing more than your initial estimation, you can consider opting for a DIY closet island instead of hiring a designer for this purpose.
A DIY closet island is very easy to design and only requires some time and effort. However, you need to be very careful while making one as its shape, size, and design will hugely impact the overall look of the closet. Also, pay attention to the storage. The primary objective of a closet island is to offer more storage space so that you can keep the space properly organised. There are various ways to create more storage space in your closet island. If you are not sure about all the components you can use for increasing the storage space in your closet island, here are three popular options you can consider:
01 of 03 Drawers
When thinking about storage for your closet island, you cannot ignore drawers. They are certainly one of the most popular storage options for your closet island. By choosing drawers, you will be able to give the closet island a very seamless and appealing look. However, you must keep in mind that opting for drawers proves to be more expensive compared to other options. Also, it is always advised to get standard-sized drawers. This is because you get many dividers for drawers that help to keep the space organised. If the drawers are too large or too small, these dividers will not fit. According to experts, the ideal widths are 18 and 24. If you want slightly bigger drawers, you can drawers of 30-inches width. Similarly, the ideal lengths considered for a drawer are 14, 16, and 20 inches. Calculate the measurements properly if you want to install drawers on both sides of an island. Also, if you want added security for storing your valuables, you can install lock systems in your drawers.
02 of 03 Shelves
Besides drawers, shelves are widely used for creating storage space in the closet island. However, contrary to the drawers, they are the cheapest option available. Hence, people looking for budget-friendly storage options for the closet island should opt for shelves. Also, making shelves is easy. If you do not have a lot of experience and time, this is a better option as well since you do not have to be very skillful in making shelves. Depending on your requirements, you can make shelves of any size in your wardrobe design for the bedroom. However, experts recommend making shelves that are at least 14 inches deep. This is because the size is considered more effective in accommodating various items like folded sweaters, pants, and shoes. You can get deeper shelves as well like 16 inches or 20 inches if you feel more storage space is required. However, the maximum depth of a shelf should not be more than 30 inches if the laminate or wood used for it is 36 inches. Wider shelves require additional support every 30 or 36 inches so that they do not sag once the shelves are loaded. However, you must remember that you cannot get additional security with shelves.
03 of 03 Cabinets
Cabinets are also a very popular choice for creating additional storage space in the closet island. They can easily accommodate a lot of items. You can use various accessories like hooks and hanging rods to further use the space more effectively. Also, cabinets give you the option to keep the items when required. If you want your belongings to stay displayed so that you do not have to go through all the cabinets to find something, you can opt for transparent glass cabinet doors. They will help to enhance the aesthetic beauty of the space as well. If you want added security, you can add locks in the cabinets as well.