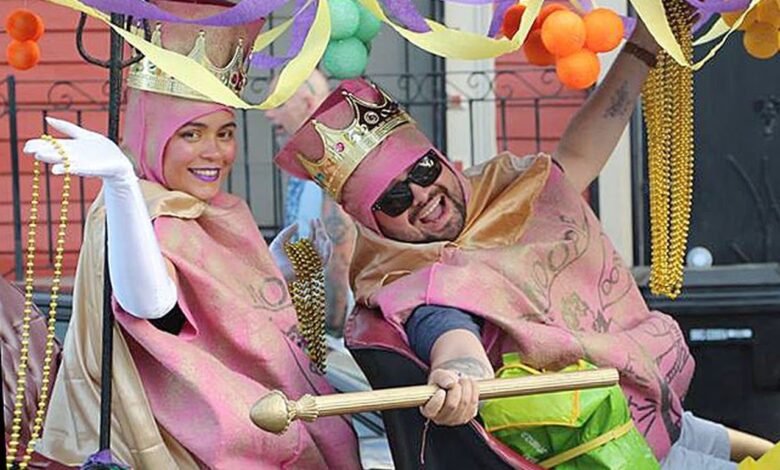 Are you looking for a creative costume to wear on April Fools Day but are coming up short of ideas? Don't worry We're here to help! In this blog post, we'll be sharing some amazing April Fools Day costume that will make you the life of any party. From classic clowns and jesters to twists on high-brow themes like Shakespearean characters, there's something for everyone in this collection. So grab a cup of coffee and get ready to browse through all these incredible looks sure to add some humour and atmosphere to your day!
April Fools Day Costume Ideas
Disguise In A "Mirrored" Costume
The entire outfit is covered with small mirrors, creating a stunning reflective effect.
This costume can be made by purchasing a plain jumpsuit and glueing the mirrors onto it; it's low-cost and easy to make.
Make sure to add reflective sunglasses to go with the costume, enhancing the "mirror" effect.
Dress Up As A Celebrity Clone
Where you mimic the appearance and mannerisms of a famous person while impersonating them in public.
This costume will require lots of research and practice to perfect, as well as a high level of acting skills.
Make sure to select a celebrity that has a distinct physical appearance, such as Lady Gaga or Elvis Presley, to enhance the comedic effect.
Transform Into A Human-Sized Easter Egg
Complete with pastel colours and a decorative bow on your head.
This costume can be made with cardboard, paint, and other crafting materials.
Make sure to add a clear backpack, filled with Easter-themed sweets and treats to give away to others, enhancing the prankster vibe.
"Create A "Fake News" Costume
Using newspaper and yellow caution tape to create a suit that looks like a news article.
This costume is easy to make, low-cost, and appropriate for all ages.
Make sure to print out offensive headlines or satire articles to go with the outfit, enhancing the prankster vibe and making a social statement.
Dress Up As A Giant Inflatable Dinosaur
Complete with scaled textured and bright green colour.
This costume can be purchased online, and will definitely turn heads wherever you go, reminding people it's April Fool's Day.
Make sure to wear comfortable shoes and have a friend accompany you, dressed up as a cavewoman or a caveman, enhancing the prehistoric effect.
Why Dressing Up For April Fools Day Is A Good Idea
Dressing up for April Fools' Day is not only a fun and playful way to celebrate the holiday, but it can also bring a plethora of benefits. Firstly, dressing up in a silly costume can boost our mood and make us feel happier, which in turn can improve our overall well-being. Additionally, wearing a costume can also help us to embrace our creativity and tap into our imagination by thinking outside of the box and coming up with unique and wacky costume ideas.
Conclusion
For those looking for an April Fool's costume that is sure to entertain, think outside the box! Whether you choose to dress as a clown or an alien, getting creative and having fun is the name of the game! Whether you're celebrating alone or with a small gathering, using props like squirt guns, giant fake glasses and more can really add to your fun. And don't forget to snap a few selfies and capture your memories. Remember that April Fools Day is about having a good time and making sure everyone around you enjoys themselves as well. So go ahead and make some ridiculous outfits, laugh at yourself and be creatively insane – it's all part of the craziness of this special holiday. So have a blast and make some great memories! For your costume needs, head to Big Party Oz!