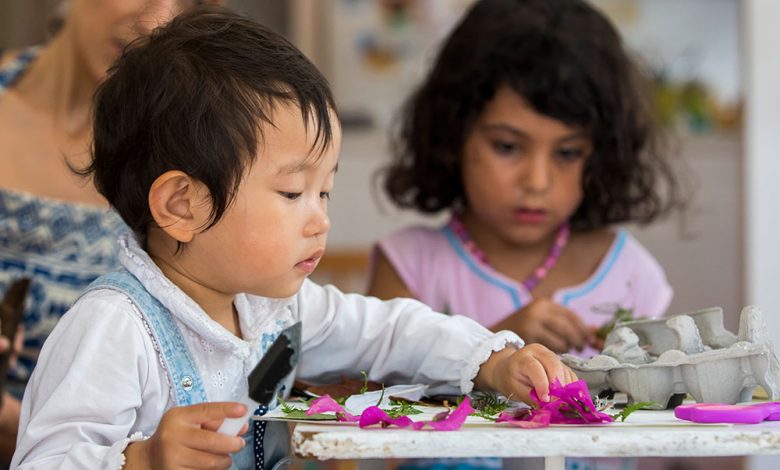 Creative development is an important part of early childhood education, helping to establish skills and neural pathways that will help your child reach their full potential later in their learning journey. 
By cultivating creativity in the early years, parents and educators can support children to develop social, emotional, and academic skills, which will help them at school and beyond. 
Here's what you need to know about the importance of creative development and how can be encouraged in a childcare environment. 
What is creative development?
Creative learning can be as simply as play! Children develop creativity every day by engaging with new challenges and concepts and practising problem-solving skills. 
Children can improve creativity through a range of activities, from creating artworks to building with blocks or helping to maintain a veggie garden. 
Creative development allows children to improve their understand of the world around them, and it provides them with knowledge and skills that can later be applied to other concepts. Through creativity, children are able to be active participants in their own learning journeys, engaging directly with activities and programs. 
Benefits of promoting creativity in childcare
There are many benefits to promoting creativity in the early years in supporting healthy child development. 
Through creative learning, children can develop valuable language and communication skills, learning new vocabulary and discussing activities with their educators. 
Creativity also plays a role in supporting curiosity and independence. As children engage with creative tasks, they begin to ask questions and face challenges, building the skills they need to work and learn independently.  
Learning creativity is also important for physical development. Creative play such as games and dances require active participation that help children develop gross motor skills and improve balance and coordination. Other creative activities, such as painting or drawing, help with fine motor skills. 
Creativity also helps children with academic learning. Through creative tasks, children are able to engage with STEAM concepts, working with science concepts and understanding cause and effect. Something as simple as building a block tower can help children learn about the physics of gravity and the mathematics needed to create a stable foundation. 
How to support creative learning
To help children learn effectively, it's essential that parents and educators support creative development at home and at childcare. 
Creative learning can be structured, involving set tasks and activities such as drawing, dancing, or building. Creativity can also be unstructured. Children can use free play time to pursue their own creative interests and choose their favourite games and activities.
It's possible to promote and encourage children's creativity by providing opportunities for children to discover new creative tasks and solutions. You can invite children to take part in creative games and ask them questions that help them evaluate their own interests and learning. 
Are you still searching for a great local childcare centre with a focus on creative learning? Search MyXplor to find childcare listings near you! For example, a parent based in Bracken Ridge might visit the MyXplor Bracken Ridge listing to find local childcare providers.
Infographic Created By Goldberg Law Office, Experienced Illinois Medical License Defense Attorney